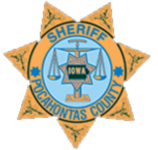 99 Court Square, Suite 9
Pocahontas, IA 50574
[Get Directions]
Phone: 712-335-5071
Fax: 712-335-5072
Click below to view form/document.
Current Inmate Roster
VINE
TurnKey Inmate Canteen
Inmate Visitation:
Visitors must be on the inmate's visitation list and you must have an appointment to visit.
Attorneys, Clergy, and/or Law Enforcement Officers who have a professional need to contact an inmate in-person should contact the jail to make arrangements for visitation.
Visitation is held over video conferencing by appointment only on Thursdays from 9:30am - 10:30am or Sundays from 2:00pm - 3:30pm except holidays and when posted otherwise.
How to schedule a visit
Contact the jail at 712-335-5071 at least 24 hours in advance.

 Request date and time for visit.  You may schedule up to 1 week in advance.

Provide staff with personal information.

Obtain appointment confirmation from staff.

Arrive 5 minutes prior to scheduled appointment time.  If you arrive late, your visit is subject to cancellation.  Please call to check.

Provide a government issued form of identification with a photo ID and date of birth (i.e., driver's license, state identification, military identification, passport, etc.).
Visitations may last up to 20 minutes per day.
Visitors must abide to all visitation policies.  These policies are available at the jail and are posted in the visitation area.
---
Telephone Calls:
Incoming calls are not allowed.  Attorneys and bondsmen will be allowed phone access.  Inmates may place calls using the "Inmate Phone System".  The "Inmate Phone System" is not owned or operated by the Pocahontas County Jail.
---
Correspondence:
Letters may be sent to an inmate by USPS to the following address and appropriately marked with the senders return mail address on the outside of the envelope.  Mail without a return address will not be accepted.
Inmate's name
     Pocahontas County Jail
     99 Court Square, Suite 9
     Pocahontas, Iowa 50574
Packages, magazines, bulk mailings, food, etc. will not be accepted into the jail.
---
Money:
Money can be deposited into an inmate's account by utilizing the Kiosk on the third floor at the Pocahontas County Courthouse (lobby is open Monday thru Friday from 8:00am until 4:00pm).  Or visit this website.
Money deposited in an inmate's account is subject to payment for medication, doctor or dental care costs, or other fees incurred during incarceration.
---
Medical/Dental Service and Mental Health:
Medical/Dental Service and Mental Health may be provided to inmates no matter what their financial condition is, however, inmates are liable for most medical/dental care and mental health costs and these costs will be deducted from their inmate account as accrued.  New money deposited will be applied to medical/dental debt.
Mental Health issues are address by professional mental health associates.
---
Disclaimer: THE JAIL ROSTER IS "BOOKED AS" INFORMATION ONLY.  DO NOT RELY ON THIS INFORMATION FOR FACTUAL HISTORY OR BACKGROUND INFORMATION.  Do not rely on this information to form an opinion of any individual without verification of identity.
IMPORTANT NOTE: Inmates listed are listed by the name provided at the time of booking and may not reflect accurate identification to the inmate's true identity.