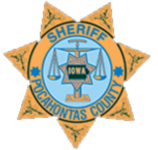 99 Court Square, Suite 9
Pocahontas, IA 50574
[Get Directions]
Jail Office: 712-335-5071
Jail Fax: 712-335-5072
Fingerprinting is a service provided by the Pocahontas County Jail for all citizens for employment reasons, teachers applying for their teaching certificates, foster and adoptive parents, dat care center employees, etc.
This needs to be scheduled with the jail staff prior to arriving at the Sheriff's Office.  Normal hours are Monday thru Friday from 9:00am to 3:00pm, excluding holidays.
This service is provided at no cost for Pocahontas County residents.
A fee of $5 is assessed for this service for those living outside of Pocahontas County.