POCAHONTAS COUNTY COMMUNICATIONS DEPARTMENT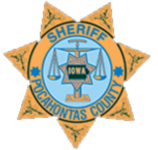 99 Court Square, Suite 9
Pocahontas, IA 50574
[Get Directions]
Phone: 712-335-3308
Fax: 712-335-4300
Civil Office: 712-335-5070
Jail Office: 712-335-5071
Jail Fax: 712-335-5072
The Pocahontas County Communications Center handles all emergency and non-emergency calls for Pocahontas County.  The center is staffed 24 hours a day, seven days a week and dispatches all Law, Fire, and EMS agencies within Pocahontas County.
There are 4 full-time dispatchers who handle thousands of calls for service each year.  In addition to answering 911 calls and radio calls, they maintain arrest warrants issued by the court system and ensuring they are entered into the local Records Management System, State and National databases as well as many other duties.
Dispatch utilizes a CAD system (Computer Aided Dispatch) for responder recommendations and documenting call details.
Information and Tips for Calling 911

911 should be called for emergencies, such as crimes in progress, to report a fire, or for a medical emergency.
For non-emergencies, such as keys locked in car (unoccupied), parking problems, dog complaints, non-injury car accidents, thefts or vandalism (when the suspect is gone) call 712-335-3308.
Remember to remain calm, speak clearly and follow any instructions the dispatcher gives you.
Be prepared to provide the location of the emergency.  Always know your location and be ready to give directions to the dispatcher.  Descriptive information such as cross streets, mile markers, landmarks, and business names are helpful.
The dispatcher will verify your address and phone number. (Even if they have this information on their screen already.)
Do not hang up until the dispatcher tells you to. Even if you dialed by mistake, stay on the line and explain that you accidently dialed.
The dispatcher will ask you questions.  Stay calm and answer the questions clearly.  This questioning does not delay the response of Law Enforcement/Fire/EMS Personnel.  It does provide the responders with more information as they are enroute  so they can be better prepared when they arrive.
Pocahontas County Dispatchers answer 911 lines, administrative (non-emergency) phone lines, as well as Text-to-911.
For more information on Text-to-911, click here.